Airborne: Reborn V
Volume V - August 6th 2020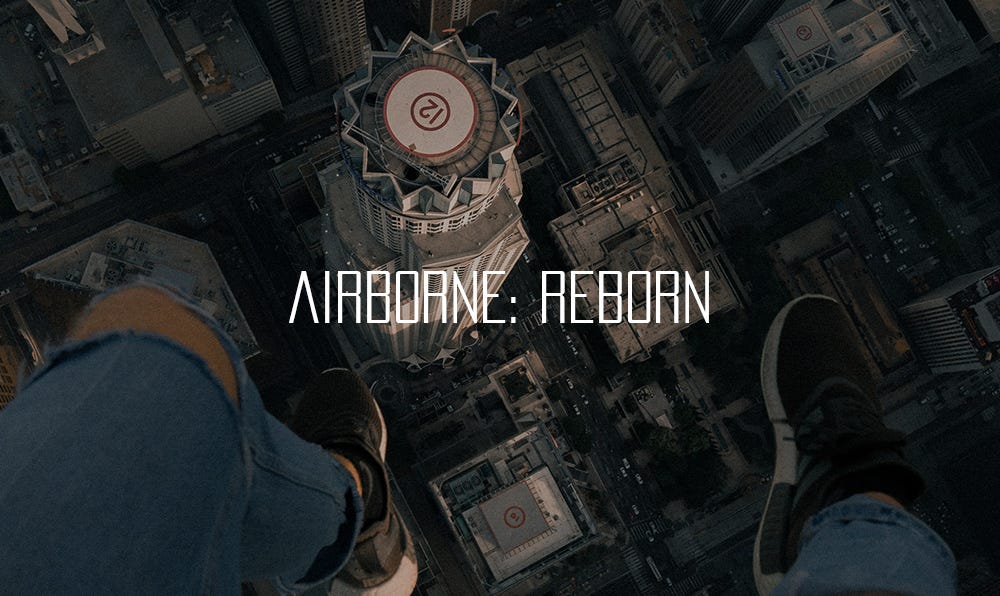 Airborne: Reborn / Volume V / August 6th 2020

From the first American spacecraft splashdown in 45 years to a successful Starship test flight - it's been a busy week for the space sector. Besides SpaceX's 'burned marshmallow' and 'flying grain silo' we've got an autonomous flying fire engine from China, two supersonic passenger jets powered by British engines, a flurry of research on alternative fuels from the EU and Australia and drones doing everything from search and rescue operations in Wales to delivering 10lbs of cargo at-a-time in North Carolina. One of our airborne robotic friends even earned a rather special spot for itself in The Smithsonian's National Air and Space Museum!
---
TOP STORY: SpaceX conduct first astronaut splashdown and Starship take-off, just days apart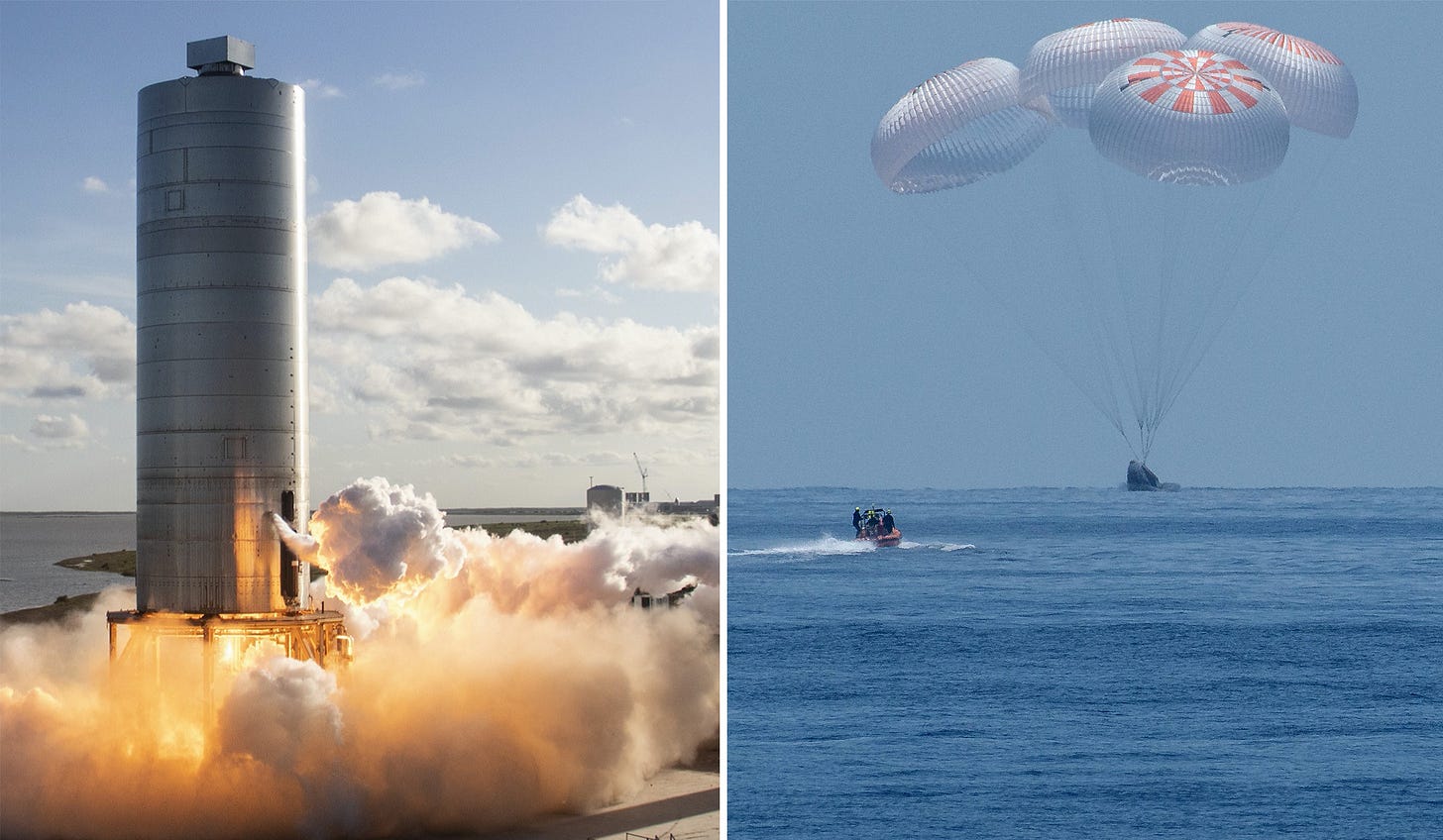 SpaceX had a BIG week; becoming the first private company to safely return humans to Earth (on completion of the Demo-2 mission for NASA) and launching their stainless steel Starship prototype SN5 on a 150m hop-flight test in Boca Chica, Texas.
The successful demonstration mission with the Falcon 9 / Crew Dragon architecture paves the way for the four astronauts of NASA's Crew-1 mission to be ferried to the ISS as early as next month, with another five trips already contracted. It ends Washington's reliance on Russian Soyuz rides to the space station and potentially puts SpaceX on course to launch space tourism flights as early as 2021.
The stainless-steel Starship hop was perhaps as significant a milestone, after several rather explosive failures. Powered by SpaceX's new methane/oxygen (methalox) burning Raptor engines the Super Heavy / Starship architecture represents a significant upscaling from Falcon / Dragon - vehicle diameter goes from 3.7m up to 9m, and low earth orbit payload capability up from 22t to 100t.
NASA surprised many in April by awarding SpaceX a $135m contract to advance a version of the Starship design as a crewed lunar lander able to demonstrate flight capability by 2024. CEO Elon Musk's plan for the vehicle goes further however - he has his sights firmly set on using Starship to establish a human presence on Mars.
As NASA administrator Jim Bridenstine put it "we are entering a new era of human spaceflight." (via NASA, SpaceX).
---

eHang (NASDAQ: EH) announced a $6m USD investment in a 600 unit/yr capacity manufacturing facility in Guandong Province, China as well as launching the 216F firefighting version of their multicopter AAV. Designed to tackle fires in high-rise buildings the vehicle uses both fire extinguishing 'bombs' and a foam spraying canon (via China Xinhua News / eHang).
We reported last month that Joby Aviation were setting up near Munich, and it seems their German competitors Lilium are on a charm offensive of their own Stateside. They are reported to be in talks with the Tampa Bay Area Regional Transit Authority (TBARTA) - trying to persuade them to fund vertiport infrastructure (see our recent piece on the topic here) - ahead of potential operations in the area (via Fox 13).
Boeing-owned Wisk appointed Eric Johnson as VP Engineering. A 25-yr Boeing veteran he has worked on projects including the Aerion Supersonic jet, 777X and 777-8 programmes (via Wisk).
---

The European Commission was reported to be considering the introduction of quotas to increase use of Sustainable Aviation Fuels in the EU. Currently such fuels constitute just 0.05% of jet fuel consumption in the bloc (via Reuters).
Meanwhile EASA published two reports on Sustainable Aviation Fuels (SAF) this week, one looking at barriers to SAF market penetration and another addressing a lack of data on SAF usage and supply in the EU (via EASA).
Rolls-Royce had a supersonic week, being announced as the engine partner for both Virgin Galactic / The Spaceship Company's newly announced 9-19 seat Mach 3 airliner and Boom Supersonic's forthcoming Overture passenger jet. Both projects tout their sustainability criteria and note efforts to incorporate use of sustainable aviation fuels (via Virgin Galactic / Boom Supersonic).
'Opportunities for hydrogen in commercial aviation' - a report by Australia's Commonwealth Scientific and Industrial Research Organisation (CSIRO) that was part-funded by Boeing - anticipates ground support equipment will be the early winner for on-airport applications of hydrogen fuel cell technology and that 'synthetic jet fuels' / 'blended electro fuels' will first come online from c. 2035 (via CSIRO).
---

Her Majesty's Coastguard in the UK revealed that after several months of trials Schiebel GroupCamcopter S-100 rotary UAVs had begun operational deployment on Search & Rescue missions in Wales (via HM Coastguard).
Airbus' Acubed innovation centre in Silicon Valley revealed they had been working with DroneDeploy for over a year and that Airbus UTM was now directly integrated into the company's platform, enabling drone pilots to apply for LAANC authorisations in-app (via Acubed).
California's Volansi signed an agreement with the FAA and US Department of Transportation for 'middle-mile' drone delivery projects in North Carolina. Test flights will make use of the all-electric VOLY C10-Gen 2 drone which can carry up to 10lb of cargo over 50 miles. (via Volansi).
Zipline Founder & CEO Keller Rinaudo shared footage of the company's autonomous drone delivery operations launching from their first US distribution centre (via Keller Rinaudo).
The Smithsonian's National Air and Space Museum accepted a drone from Google X Lab graduates Wing into their national collection. Drone A1229 was the first commercial drone to make a home delivery in the U.S. (via The Smithsonian).
---

We reported on the diminutive Dutch spaceplane from Dawn Aerospace ($5.5m funding) that's hoping to shake-up the CubeSat launch market (via Osinto).
SmallSat launch startup Astra ($100m funding) suffered a series of setbacks in their attempts to launch 'Rocket 3.1' from Kodiak Island, Alaska in a bid to win DARPA's Launch Challenge. The launch window closes on August 7th (via Astra).
The US Federal Communications Commission (FCC) approved Amazon's Kuiper constellation of 3,200 satellites for Low Earth Orbit (LEO), subject to further detail on the company's orbital debris mitigation plans (via Joey Roulette).
---
---
Visit the Osinto homepage or email us at hello@osinto.com