Airborne: Reborn XI
Volume XI - September 16th 2020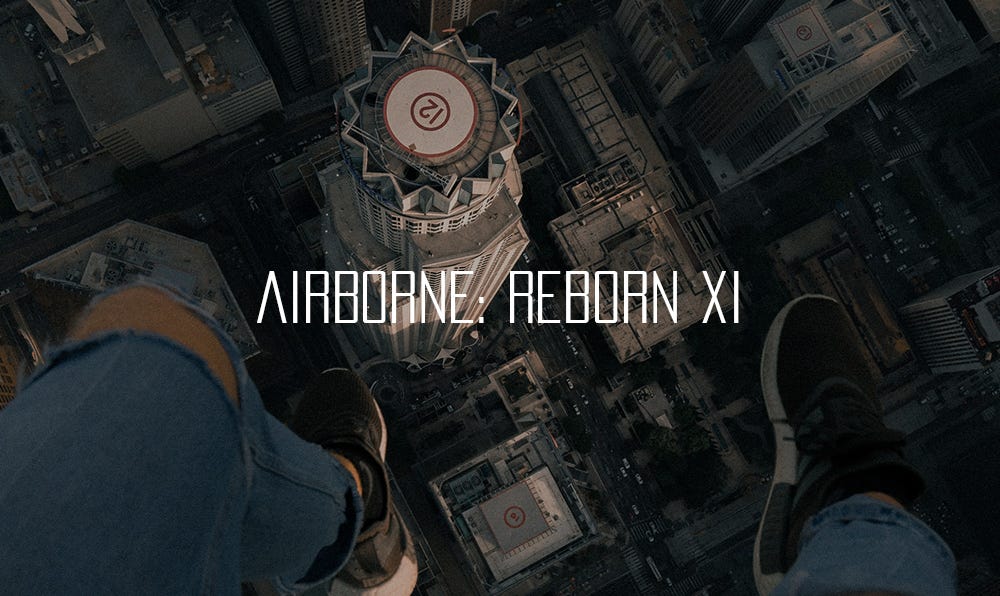 Airborne: Reborn / Volume XI / September 16th 2020

This week NASA want to buy moon rocks, supermarkets plan to fly us all food, Korean batteries make it to the stratosphere and a VR millionaire shows us his favourite new Ghost.
We show you an autonomous German gyrocopter, a Dutch Flying-V, a rocket going wrong in Alaska, a 'car' taking off in Turkey and Boris Johnson's bureaucrats fund a celestial litter pick, of sorts.
And for the second week running our Top Story comes from China.
---
TOP STORY: Autoflight's 'V400 Albatross' cargo drone can fly 100kg of cargo up to 1,000km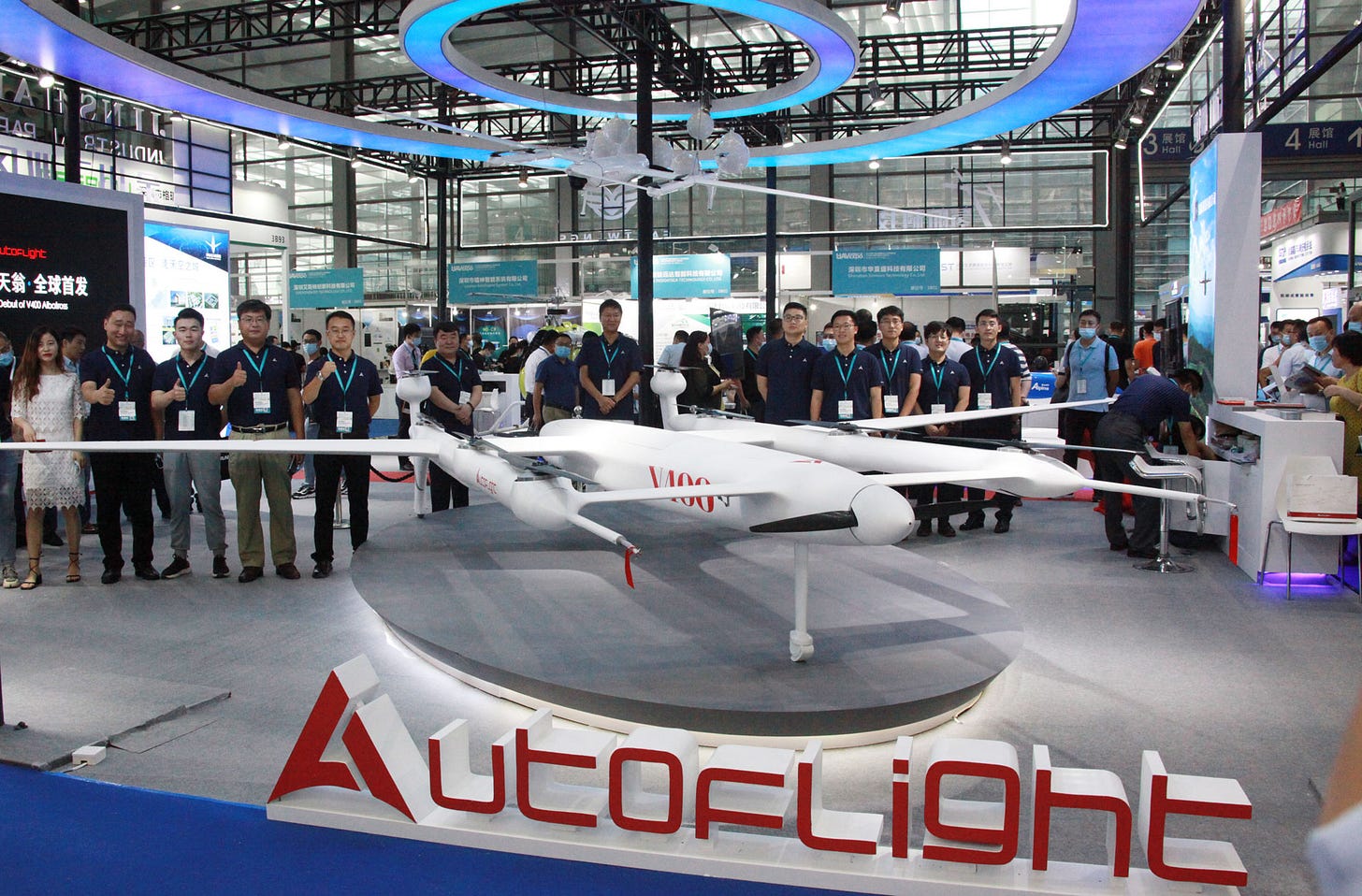 Shanghai headquartered Autoflight publicly unveiled their V400 Albatross cargo drone at the 2020 World UAV Conference in China this week. With a maximum takeoff mass (MTOM) of 400kg and useful load of 100kg the aircraft has a fully loaded range of 300km in all-electric form or 1,000km in hybrid configuration.
The all-composite carbon fibre airframe has eight lift motors for vertical flight, a dual push-pull propeller configuration for cruise and can be specified with a full airframe recovery parachute if desired.
The design is reminiscent of legendary US aircraft designer Burt Rutan's record-breaking Voyager aircraft - the high aspect ratio wing, lifting body and low drag coefficient all aiding efficiency. 4G & 5G connectivity and advanced detect-and-avoid capabilities mean this is an aircraft truly at the bleeding edge of civilian aerospace technology (reportedly having first flown in Nov. 2019).
The company are also developing the larger V1000 - named after a giant mythological Chinese bird - with MTOM of 1,000kg. First flight is expected this year: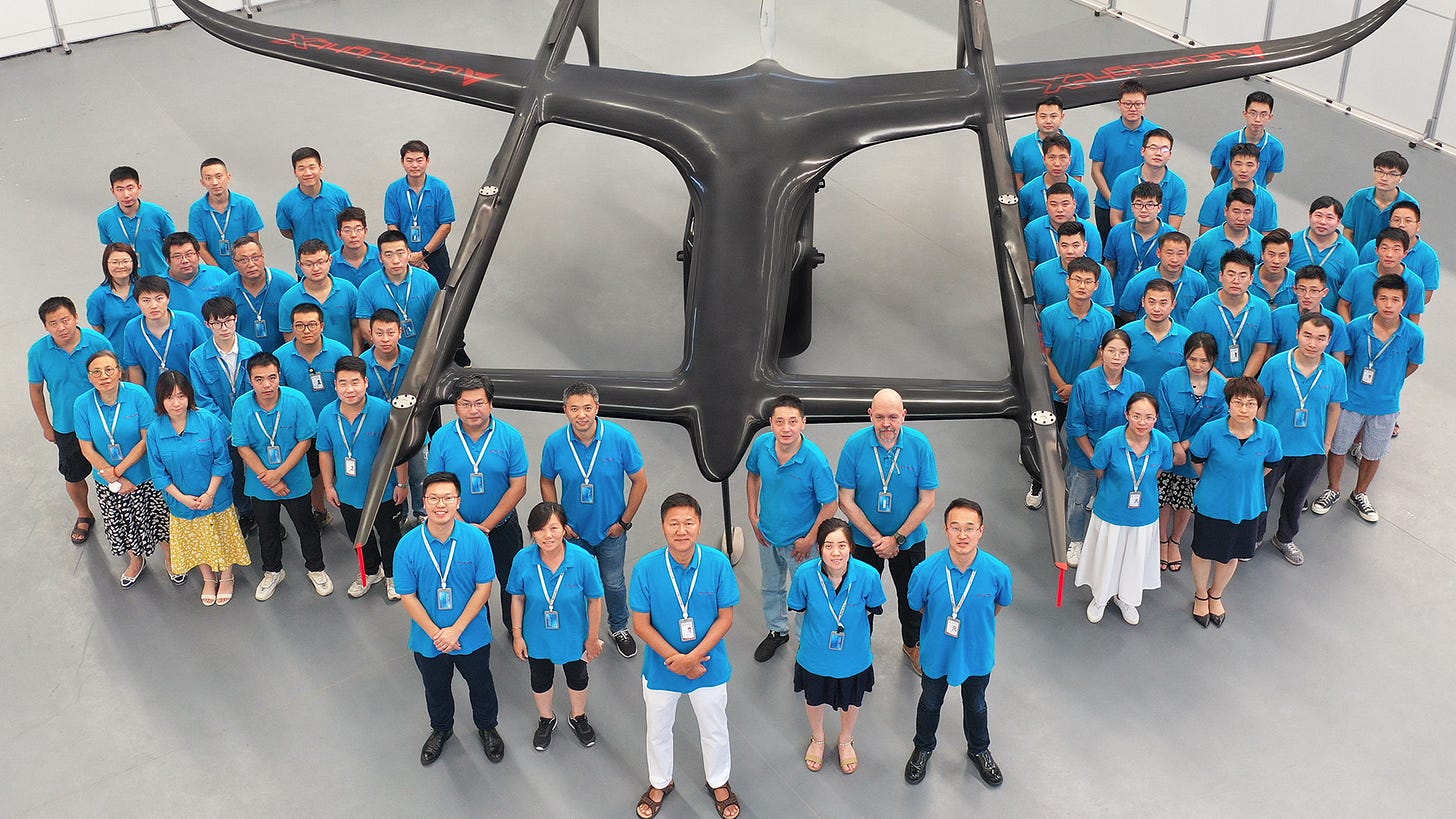 An autonomous V1200 is also being developed for future passenger-carrying Urban Air Mobility missions. These new aircraft join the existing V50 Great White Shark fixed-wing eVTOL - 10kg payload, 6 hrs endurance:

And the F240 firefighting multicopter - 100kg payload of firefighting 'bombs':

With R&D centres in both Munich & Shenzhen Autoflight have applied for over 100 patents to date and tout a wide range of commercial applications for their fleet - from mapping, inspection, and surveillance to search and rescue, emergency response and (central to their strategy) aerial logistics.
It should come as little surprise that cutting-edge commercial UAV projects in China have significant potential overlap with some of Beijing's most strategic geopolitical priorities. Autoflight for example have recently:
---

Baykar Technologies from Turkey released footage of their Cezeri 'flying car' undergoing free flight testing in Istanbul this week (via eVTOL.com):
Mary Barra, CEO of General Motors, said on Monday that; "the strength and flexibility of our Ultium battery system opens doors" for many uses "including aerial mobility". The automotive giant is reported to be exploring options in the eVTOL / 'air taxi' market (via Reuters).
Volocopter opened online reservations for future passenger flights in their VoloCity aircraft - book yours here. A 10% deposit of €30 secures a spot on a 15 min. flight within 12 months of commercial launch. Total price? €300 (via Volocopter).
---

The Korea Aerospace Research Institute's solar-powered EAV-3 high-altitude drone completed a 13-hour test flight into the stratosphere, proving stable charge/discharge performance of the on-board LG Chem lithium-sulfur batteries at temperatures of -70 degrees Celsius. (via Electrive).
A sub-scale prototype 'Flying-V' aircraft weighing 22.5kg was recently flown for the first time at an airbase in Germany. The project is led by a KLM and Airbus backed team from the Delft University of Technology (via CGTN):
Global Fixed Base Operator (FBO) Signature Flight Support announced that they'll now 'permanently' offer Sustainable Aviation Fuel (SAF) to customers at SFO in California and Luton in the UK - in partnership with Neste and NetJets (via Signature).
---

Anduril Industries (started by the founder of Oculus VR) announced their "American-designed, American-made" Ghost 4 drone aimed squarely at US government customers wary of / recently banned from buying Chinese alternatives (via Palmer Luckey).
Britain's Flylogix announced a new two-year partnership to provide a freight delivery service between the Isles of Scilly and the UK mainland. As part of the project a new, larger UAV will be developed to meet the islanders' needs (via Flylogix):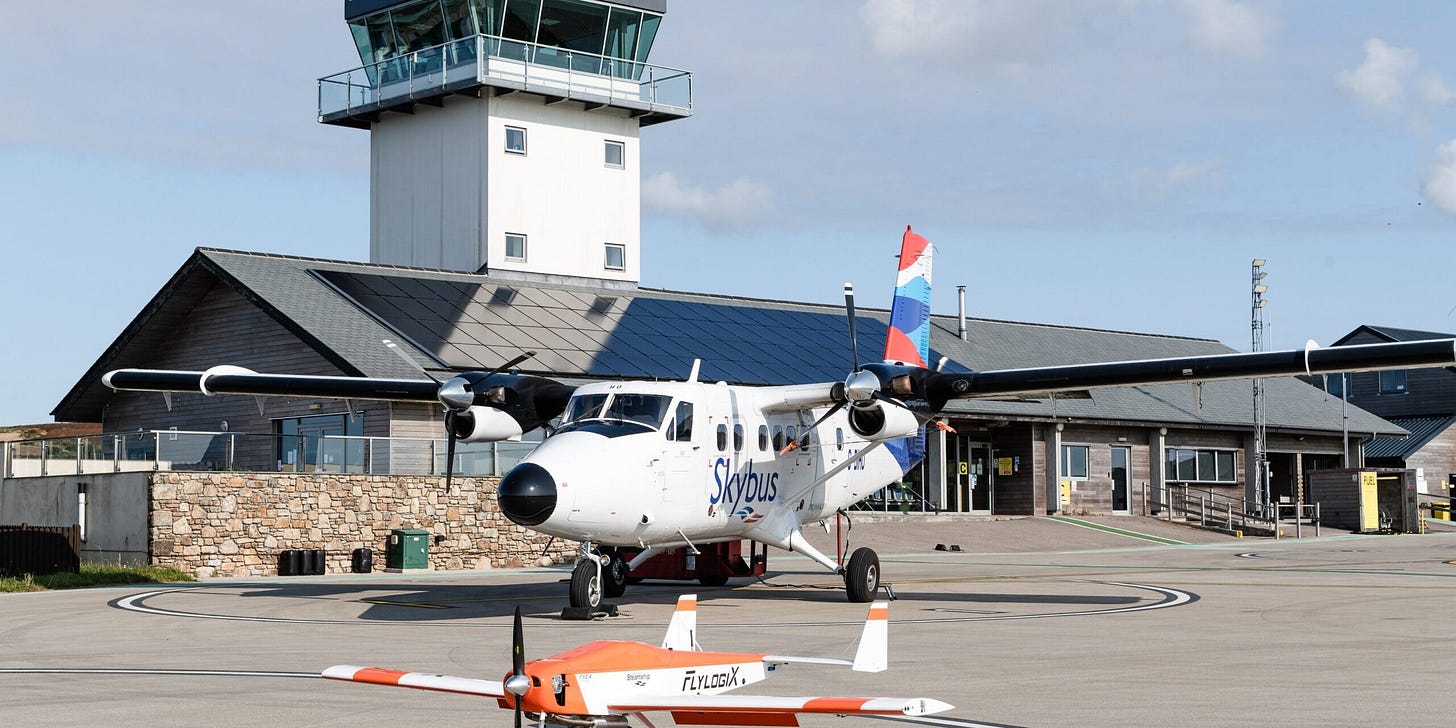 Germany's Airial Robotics showed their first production-spec GT20 Gyrotrak cargo drone. The battery-electric helicopter / gyrocopter VTOL has 2.5 hrs endurance with a 4kg load and cruises most efficiently at 37mph (via Airial Robotics):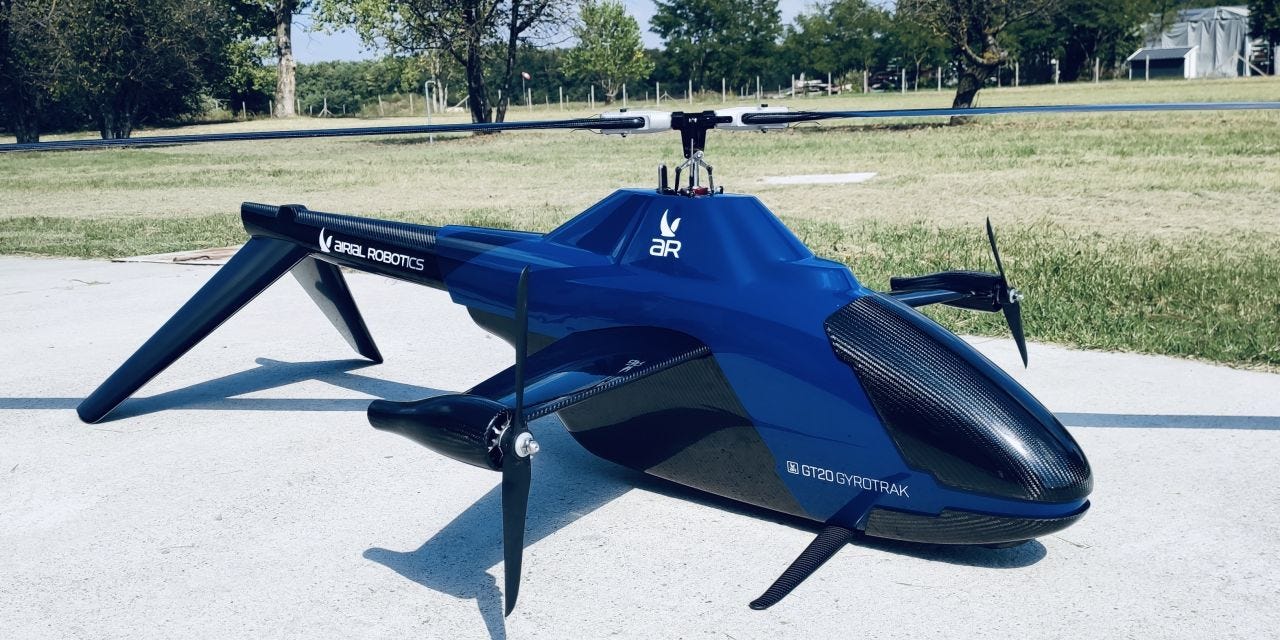 California-based drone delivery specialists Volansi closed a $50m USD round of Series B funding led by Palo Alto's Icon Ventures (via PR Newswire).
Irish drone delivery company Manna Aero revealed they were working with Britain's biggest retailer Tesco on 'small basket' grocery deliveries (via Reuters):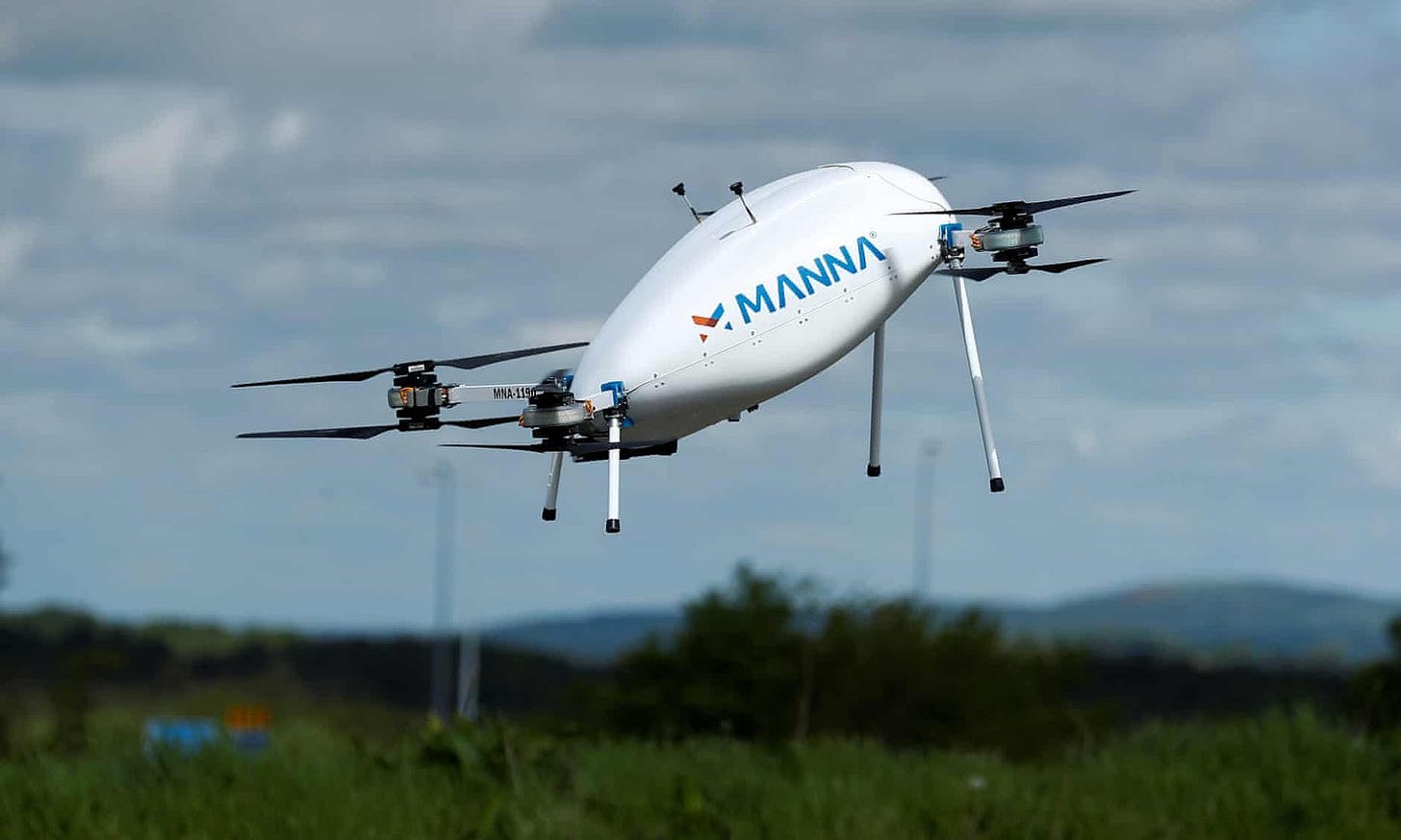 And not to be outdone, Walmart also announced the launch of a pilot project to deliver groceries by drone, in North Carolina with Israeli company Flytrex (via USA Today).
---

NASA announced that they will buy lunar soil from commercial providers and invited companies to submit their proposals (via Jim Bridenstine).
Californian rocket company Astra's Rocket 3.1 (up to 150kg payloads to 500km SSO orbit) launched in Alaska. A guidance-system induced oscillation caused the flight to end earlier than planned - watch the flight (and crash) here (via Astra):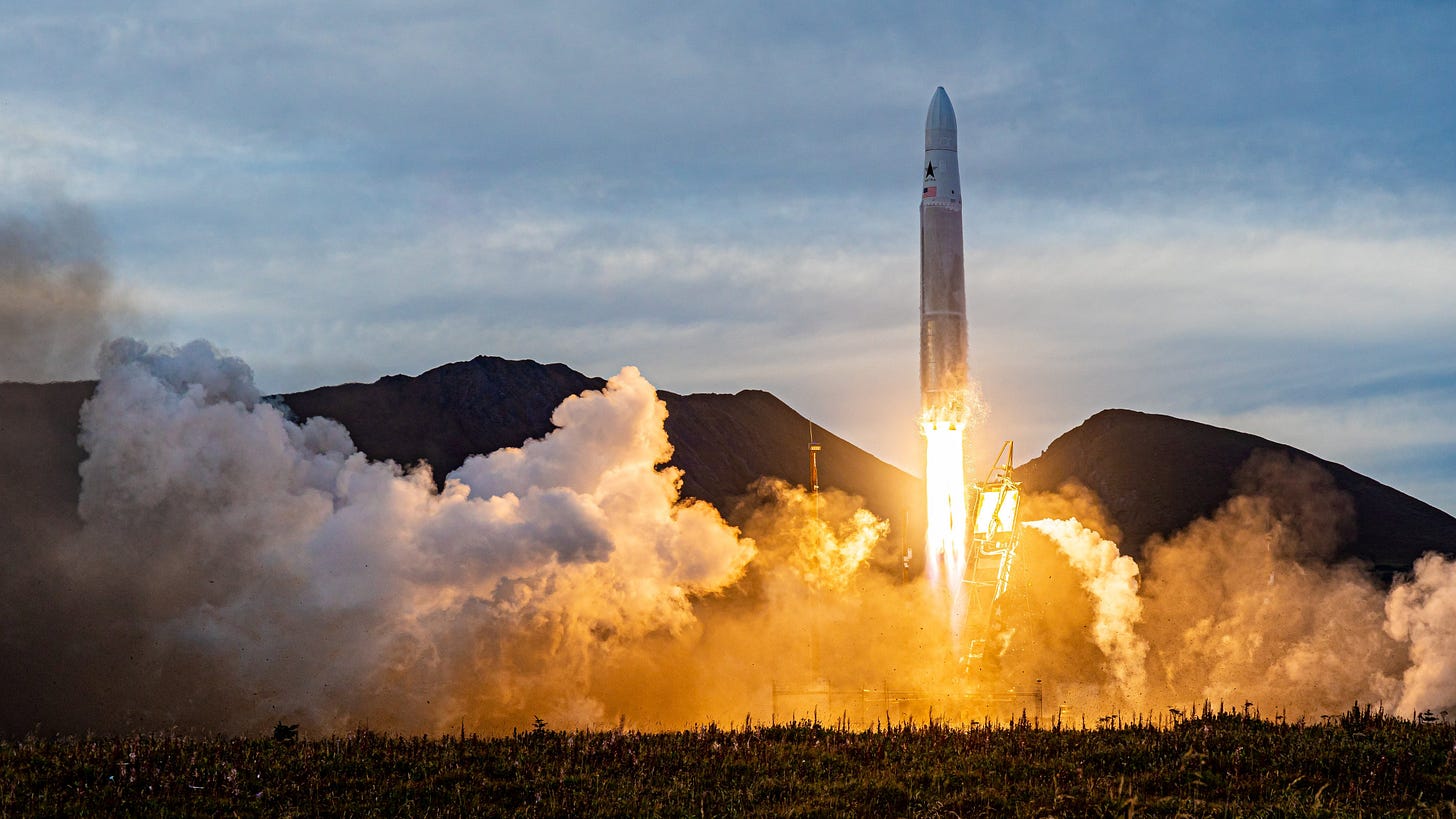 The UK Space Agency awarded £1m GBP to seven commercial projects - Lumi Space, Deimos, Lift Me Off, D-Orbit, Astroscale / Fujitsu, NORSS and Andor - for space debris tracking projects (via BBC News).
---

eHang released stunning footage of more autonomous sightseeing flights being conducted in China in their pilotless 216 AAV (via eHang):
---
---
Commission us to conduct Bespoke Research, subscribe to a Market Intelligence-as-a-Service package or contact us at hello@osinto.com.